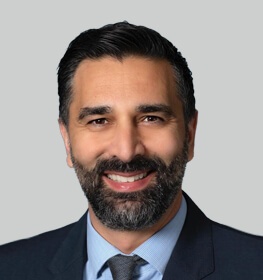 Heitham Hassoun
Vice President & Medical Director Cedars-Sinai
Dr. Heitham Hassoun is an accomplished executive, clinician, and global healthcare leader. Currently he serves as the Vice President and Medical Director for International at Cedars-Sinai in Los Angeles, California. In this role, he leads the institution's International patient services as well as global strategy and operations. He joined Cedars Sinai in 2018 and previously had served as Global Medical Director for Johns Hopkins Medicine and was an Associate Professor in the Department of Surgery at The Johns Hopkins University School of Medicine between 2012-2018.
Dr. Hassoun is a multi-faceted clinician and global healthcare leader with a wealth of experience in international patient services, global collaborations, health system development, and academic medicine. He was instrumental in the creation of Johns Hopkins Aramco Healthcare, a joint venture between Saudi Aramco and Johns Hopkins Medicine, as well as a number of other institutional management and affiliation agreements throughout the Middle East and Asia. Currently, he aims to expand the global footprint of Cedars-Sinai, a leading US academic medical center.
Dr. Hassoun maintains a clinical practice in vascular and endovascular surgery, and he continues to educate and research in a variety of topics related to global collaborative healthcare and academic medicine. He completed his fellowship training in vascular and endovascular surgery at Northwestern University in Chicago, his medical degree at Baylor College of Medicine in Houston, and Bachelor of Arts degree in Natural Sciences from Johns Hopkins.