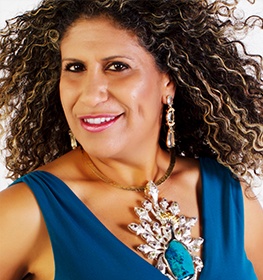 Michal Mael
Transformational Coach, CEO, Speaker, Author & Energy & Rock Positioning Expert
Spiritual Coach, Energy & Rock Positioning Expert, Speaker, Author, and CEO, Michal Mael has been in the business of semi-precious stones since the age of 10.
Affectionately known as "The Queen of Rocks," Michal is best known for selecting and creating opulent energy pieces called Nature's Art Décor™ and importing and exporting them worldwide.
She's also known for coaching interior and exterior designers on the function of energy using her signature Energy Positioning Blueprint™ which maps out where to position crystals to enhance health, improve relationships, have a deeper spiritual connection, and promote wealth and abundance of all kinds.  Her signature keynotes emphasize the positive impact of crystal energy with a direct connection to finding clarity of purpose and understanding Mastery Heart Healing, which together enriches our lives.
Michal has worked in the healing space for over 23 years and is the #1 importer of Nature's Art Decor in the U.S.  She travels across continents, handpicking the finest eco-conscious gems from mines in China, Vietnam, Brazil, Peru, Uruguay, Morocco, and beyond. In collaboration with her seasoned craftsmen, she transforms these gems into exclusive art pieces embodying elegance, affluence, and abundance.  Michal founded "Rock Our World" in 1999 and later "Michal & Company," specializing in importing, designing, and creating unique Nature's Art Décor™.